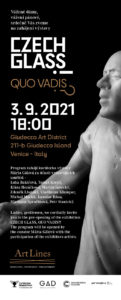 On 3 September at 6 pm we heartily invite you to the opening of the exhibition Czech Glass, Quo Vadis ?! in Giudecca Art District – GAD on Giudecca Island in Venice.
Together with the exhibiting artists:
Vladimíra Klumparová, Zdeněk Lhotský, Jaroslav Róna, Michal Macků, Petr Stanický, Klára Horáčková, Martin Janecký, Michaela Spružinová, Luba Bakičová and Tomáš Krejčí.
On 4 September, the international glass festival – The Venice Glass Week, of which this exhibition will be a part, will be opened and will last until 12 September.
The exhibition will run for a month and will close after the 10th edition of "Art Night Venezia" from October 2-3, 2021.
ART LINES team, curator Mária Gálová