EXHIBITION Zdeněk Lhotský & friends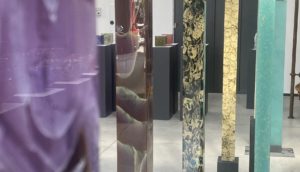 In the reconstructed building of the former textile factory in Poříčí in Železný Brod, an exhibition of works by Zdeněk Lhotský and his friends – artists who realized their works in cooperation with his studio in Pelechov – is presented. All exhibitors are united by cast glass technology. The installation of glass together with the industrial interior of the former factory space creates an extraordinary exhibition unit.
Opening of the exhibition on Saturday, September 17, 2022 from 4:30 p.m.
Poříčí – site of the former Kolora factory
Open: Saturday 10am-6pm
Sunday 10am-2pm
In the following days, the exhibition is open by appointment, please call: 00420 773 790 136